Day 1: San Clemente to San Luis Obispo - 11 mile ride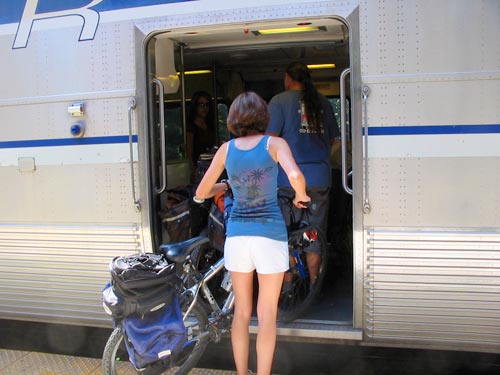 The first day of our trip consisted of riding from home in San Clemente to the Amtrak station in San Juan Capistrano, followed by a seven-hour train ride to San Luis Obispo, plus a two-mile ride to the motel.
Our trip nearly came to a very early conclusion, though. Our train was scheduled to arrive at the station at 1:20pm. For our trip back home the train was scheduled to arrive at 1:40pm. I got the two times mixed up in my head so when a train pulled in at 1:20 we almost didn't get on. Thanks to Brenda's insistence, I checked the tickets and we made a dash for the train... and made it.
Did I say it was a seven hour train ride? It was supposed to arrive at 8:30pm but instead it didn't get there until 9pm. We checked in to the motel and then we walked to all of the nearby restaurants, which by this time had all closed. Thank you, Amtrak. Dominos came to the rescue by way of a small pizza, delivered.
Day 2: San Luis Obispo to Santa Maria - 41 mile ride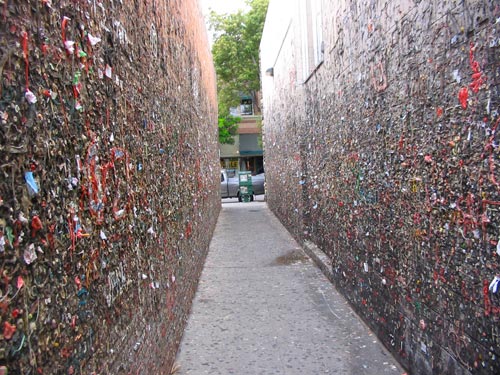 This our first real day of riding. We partook of the continental breakfast at the Travelodge and hit the road. We didn't get too far before our first stop: Bubblegum Alley. If you haven't seen this place before, you owe it to yourself to stop by the next time you're passing through San Luis Obispo.
Seeing as we were in territory that seemed as flat as a dry lake bed, we weren't expecting any climbing. We actually came across a short, steep section of road.
From there we headed down the coast to Guadalupe, which almost felt like a town in Mexico. It was built around the region's immigrant farm worker community. The fields seemed to go on forever, as the smell of freshly picked cauliflower filled the air as we pedalled inland to Santa Maria. At several points we saw groups of farm workers harvesting the crops and filling the boxes destined for market.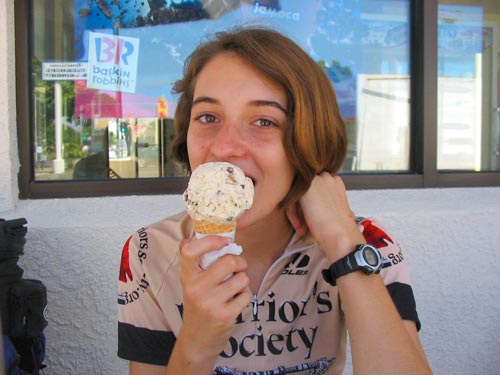 Before we got to the Motel 6, we made a stop at a Baskin Robbins for some medicinal ice cream.
Our drill for dinner consisted of walking to some nearby restaurant for a meal. By the evening we'd had enough of riding, so a walk felt pretty good. I spotted a mexican place about a mile from the Motel 6, so that's where we headed. When we walked in, I knew that it was going to be good because were about the only gringos in the place. It didn't disappoint.
Day 3: Santa Maria to Buellton - 44.6 mile ride

After stopping for shredded beef breakfast burritos (and a humorous photo op) at Del Taco, we rode South through Santa Maria to Highway 1, which by this time was routed inland around Vandenberg Air Force base. My route had us taking a road called Harris Grade. We approached a road that looked like it it might be Harris Grade but there was absolutely no signage. Fortunately, there were a pair of roadies just on the other side of the road who were able to confirm that this was indeed the road we were looking for. It proved true to its name and presented us with several miles of steady climbing. It also presented us with even more miles of twisting descent.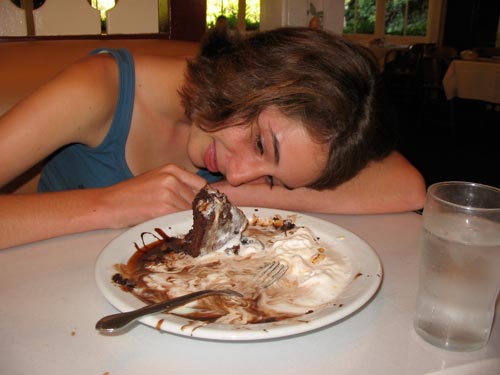 A left turn onto highway 246 and 16 miles later got us to our destination for the night: a Motel 6 in Buellton.
That was the longest ride that Loren had ever done, so by the time we got to the motel Loren was more than ready for a dip in the pool, even if the pool water was just marginally above freezing.
Right across the freeway was the famous Anderson's Pea Soup restaurant so we couldn't pass that up. I'd seen the place for years but I don't think I'd ever eaten there. As you might expect, the pea soup was pretty darn tasty.
For dessert we shared something called "Bombs Away Brownie" that was frickin' huge. This may have been the first time that any dessert has bested Loren.
Day 4: Buellton to Santa Barbara - 43 mile ride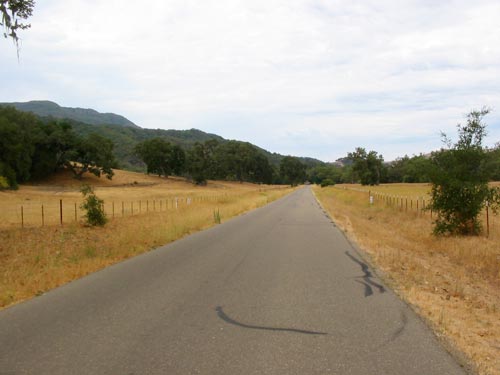 Our day started with an easy four mile ride into Solvang where we had a nice breakfast of Danish pancakes and Æbleskivers.
Instead of taking highway 246 South to Santa Barbara we turned right onto Alisal Road. This turned out to be a beautiful road that climbed up through countryside that has probably looked the same for the last several hundred years. It ended at the old highway 1 which took us a short distance to the 101.
This was our first experience riding on a major freeway. We donned our orange caltrans vests and started climbing. After about a mile and a half we crested the hill and got to coast five miles downhill to the ocean. For the most part, the 101 had an extra-wide shoulder so we just rode as far right as possible until we were able to ride on surface streets.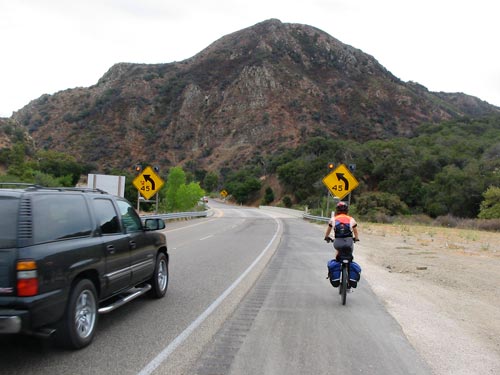 Loren had been experiencing a click in her pedal stroke so we stopped at a bike shop on our way to the room we had arranged for on campus at UC Santa Barbara. As it turned out, it was a loose crank arm that the guys at Bicycle Bob's tightened up for free. Gotta love the cycling community.
At UCSB Loren got a little taste of the periphery of college life when we walked to the block of restaurants and bars that have a symbiotic relationship with the University population. On our way back after dinner, we saw a commemorative plaque noting the location of the first Kinkos. And to think the Europeans scoff at our lack of history.
Day 5: Santa Barbara to Oxnard - 56.7 mile ride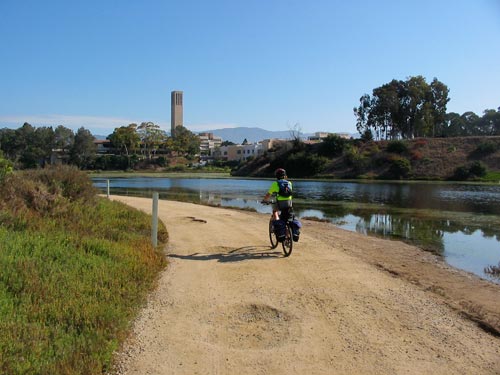 Starting the day's ride, we wandered through the UCSB campus to exit through the South end. Even though classes hadn't yet started, we were amazed at the number of bikes we saw. There were not only hundreds and hundreds of bikes parked next to each building, we rode along with dozens of riders weaving through the campus with most of the them on beater bikes.
It turns out that there's not much east of UCSB other than bike trails and residential areas. While this is great for riding, it's not so great for breakfast. We cruised along the trails (complete with solar powered lights) for about ten miles before getting into a more commercially developed area. Our little "breakfast death march" was a just a precursor to the day's ride.
Since we were not doing hiker/biker camping, we were out of sync with the standard biking guidebooks. In planning the trip, I was able to use the books for part of the route but then had to rely on Google Earth and Google Maps to fill in the rest. Consequently, my mileage estimates were somewhat rough. What I'd thought was going to be a light, sub-40 mile day turned into nearly 57 miles. We even got some climbing in with a trip up a substantial hill in suburban Santa Barbara.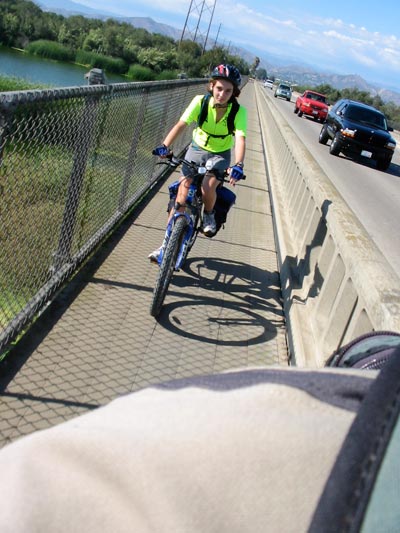 After making our way through Santa Barbara, we had another five mile stint on the 101 during which I picked up a nail in my back tire. Fortunately, prior to the trip I got both our bikes set up with slime tubes and tire liners. I just pulled out the nail and we kept rolling.
At 4pm we finally got to an area in Ventura that had food, so we had lunch at a Subway. We still had about 20 miles to go until we got to Oxnard.
A couple of days before we were scheduled to leave on our trip, I started getting sick with a sore throat and congestion. I wasn't going to let that get in the way so I'd been gargling with salt water and using Zicam to keep the bugs at bay. By day 5 Loren started getting sick with the same thing. She was a real trooper and finished the day strong.
The pool at the Vagabond Inn was at least ten degrees warmer than the one in Buellton so we swam for a while and then walked over to a Chinese place for dinner.
Throughout the trip we passed quite a few fields of strawberries, the smell of which produced a strong urge to want to eat strawberries. We passed multitudes of fresh produce stands during our ride, but they always occurred at the beginning of the day. I didn't think that a basket of berries would do well over the course of a long day's ride. As we were riding into Oxnard, we spied a stand selling fresh produce. We each plowed through them for dessert back at the motel that night.
Day 6: Oxnard to San Clemente - 11 mile ride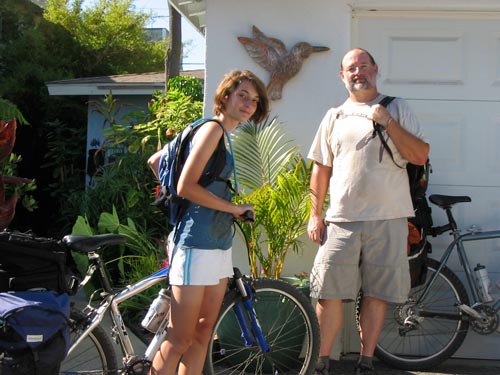 Another sumptuous continental breakfast got our day started on the last leg of the trip. We only had to ride a mile or so to the Amtrak station. We had covered enough ground riding that our train ride home was only 3 1/2 hours instead of the seven hours it took to San Luis Obispo. In proper Amtrak fashion, the train was half an hour late by the time it got to Oxnard.
We rode from the station in San Juan Capistrano to one of our favorite local eating spots, El Campeon, for lunch, where Brenda met us. We made one more stop for a congratulatory ice cream cone for Loren, as she had been craving cookie dough ice cream. After all this riding, I'd say she deserved it.
A few miles more along the coast in San Clemente and we were home. We both had a great experience on this, our first multi-day bike trip. I have to say, though, that I'm looking forward to a couple of days off the bike.
To view a slide show of all the pictures from the trip click here.