Audio
What Barry did with my material was nothing short of a major miracle and an absolutely brilliant job! Now you can ask me: "so, who's your go-to mastering guy?" - Arthur Alexander, Artek Productions
Audio Post Production
When I do my job right you'll never notice it. You will simply be immersed and engaged by the visuals. I've done mixing for DVD projects, TV, and documentaries, like this mix for this CLIO award winning short, Selfie.
Recording
My studio is completely mobile. I do live location and studio work that ranges from basic stereo capture, to 20-channel full band tracking. Over more than twenty years recording The Hutchins Consort, I've developed some unique small ensemble micing techniques.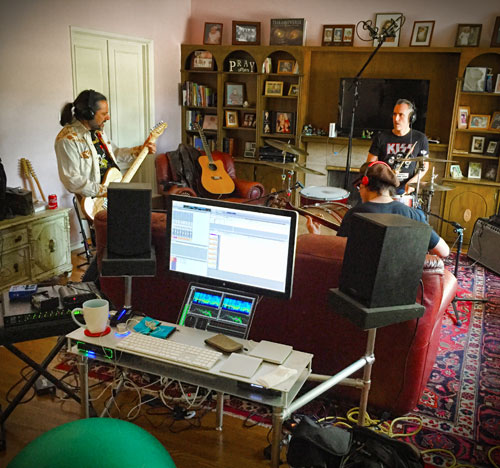 Mixing & Mastering
I love challenge of mixing. Listening to where the soul of the song lies and building a compelling mix around it is very rewarding. I'm an adherent of the "less is more" maxim, except in cases where "more is more."
I've mastered hundreds of albums in just about every conceivable genre since I started professionally mastering in 1995. I'm a veteran of the loudness wars so I know how loud is too loud.
Mastering Credits
Bruce Watson
Shekhinah
Shawn Q
Nervous Nation
Grooveswitch
Suitcase Johnnie
Spider Island
Fred Mlakar, Frank Rote and Friends
Cityzen
Red Undead
Agro Culture
Hestyn
Bloodhail
Innerday Alarm
Lickitty Splitt
West Coast Fletch
FOG
War le Fey
Michael Panza
God Bless Thee, Moosheart
Marla Hooch
Organ Trafficking
Stacy Johnston
Van Duren & Tim Horrigan
The Shakedown
Jeff Kaa
Linda Lauren
Rex De Long
10 Fold
Amanda Squires
Dena Rice
Marianna Ladas
Cindy Tizzard
One of a Kind
Colin Jenkinson
Scarred IV Life
Robert Valente
Neil Lynch
P James Z
Anya Foundation
Interval
Box Five
Rosecranes
Carlos Diez
Aaron Rovenger
Robyn Harris
Sue Cross
Split Peas
Less Than Zero
Irene Bridger
Palace of Love
Florence Pope
Holly Phillips
Kim Hanselman
Ada Jenkins
Paula Prince
Forest Glen
Anna Madorsky
Loaf
St. James Blues Band
Kentucky Rain
Dave Soberg
Testimony of a Servant
The Baksheesh Boys
Kaori Trio
Raymie Drene
The Gemtones
The New Lost Remnants
Violet Vertigo
Remerik
Gerry Soneff
The Loads
One Global Heart
Dave Miller
The Soundbodies
Speakezes
Trond Bjornard
Xina
Planet Farm
Dan Morrisey
Inducer
Adjacent
Hollywood 10
Zack Leven
Kevin Burnett
Blue Dove/September Rising
Zenta Sato
The Medicine Show
Steve Ball
Dennis Kambury
Jerry Summers
David Akina
Chris Campbell
Babz and QWERTY
Roger Dillon
Vaitam
Dig
First Media Works
Birdman
Project 3*2*7
Darrell Adams
Sleeping Giant
Kyle Ingles/Seal Rock Publishing
Los Reyes de la Frontera
Side Swipe
Some Thing Else
Article 134
Vision
Peter Wetzler
Thomas' Apartment
Hat Trick
Doghouse
Bare Foot Bride
Deepwater
Sunday Morning Lounge
The Coyotes
Mary de Sade
Chris Gillette
Barry Craig
Tripper Gore
Crypto Sith
No One Special
Flavored Dementia
Spleen
Temporary Members
Matrix Entertainment
Scott Parsons
No Exceptions
Diamond Doug Brookins
Devise
Art Miller
Overland
The Slath
Luna Bound
Pier Point
Tom Campion
The Ice Cream Man
Arlene Thompson
The Gillette Trio
Twilight's Moon
The Sharks
Louie Full Moon Relish
Michael Quigley
Mitch Hose
Ahimza
Headcraft
Dagda
Third Door Down
Blanco Debris
Hoovz Records
Indirect
H&H Management
Nathan Malagon
Dave Cross
Spilt Milk
Dos Guys
Caddy Wampuss
Gateway
Tentileight
Ric Bonnell
Aquired Taste
George Lawton
Get Some
Heat Miser Records
Lycia Harvey
WZMG and the Coot
Free Time
Laughing Stock
Bill & Jan Wagoner
Leo Gosselin
Emmett Chapman
Sean Malone & Greg Howard
Experience Cloud
June Melby/Matthew Niblock
Red Phair
Karis
Bart McCorvey
Patti B
Sean Amato/Podgiegaloop
Tom Curren
Bigger Than You
Joe Cook
APC Entertainment
Chris Pitchford
Bunch-O-Guys
Unto Every Creature
Ian McLaughlan
ARM
Mike Young/WRAD
Biodegradable Productions
Richard Peikoff
Mario Fausto Castiglia
Plaid Halibut
Adrian & Mike
Louis Dean
Joe A'iello
Buzz Box
Ruth Lopez-Yanez
Muscle Car
DCP Productions
Ron Mallory/Enerjazz!
Marcia Berman
Knotty Knees
Joey Petro
The Clear
John Bradley Entertainment
Envion International
Undermind
Gregory Coleman
Horrigan Productions
Soma
Foreman Television Productions
Alphonse
Everett Carroll
Soul Eye Records
Phantom Productions
Aaron Johnson
Cantemos Chiquitos/Georgette Baker
Flea Circus
Stormy Seas
Sound Collection
Sunchild
the Dogz
Snack
Teata & Sam
Jim Rule
Medieval Times-CA
Recording, Mixing, Producing
Fairlight Moriah DeTorres
Colin Jenkinson
George Lawton & Rick Heller
Rocktet
Rich E. Rich Band
Steve White
Frankie Jordan
Dave Miller
Scarred IV Life
Wearing Paper Crowns
Harmony / Syndicate Entertainment
P James Z
OC-CA
Chris Hartford
Laura Collier
Krewl
Joanne Adrian
Tony Murga
Matthew Akiona
Joe McNalley
Andy Le
Trond Bjornard
Article 134
Some Thing Else
Rusty Vail
Bill Nolte
Sunday Morning Lounge
The 3rd Degree
No One Special
Diamond Doug Brookins
Crypto Sith
Nathan Malagon
Tentileight
Tom Curren
Heat Miser Records
Mario Fausto Castiglia
Unto Every Creature
Sean Amato/Podgiegaloop
Knotty Knees
Tom Lasusa
Sheree Cormier
Toe Tappin' Records
KC & Company
The Curse
The Conditions
Persia
Ernie's Ass
Acoustic Shack
Storytellers & Troubadours
Stone Groove
Blonde Vinyl Records
Delaney
Top Hat Charade
Fiction Alley
Outback Patio
Load
Audio Post, Sound Design
40 Amp Fuse live @ Mount Baldy Lodge
Rachel Lauren concert DVD
Richard Glazier concert DVD
Calder Quartet concert DVD
So Percussion concert DVD
Real Quiet concert DVD
The Hutchins Consort Carlsbad concert
Odicie (short film for BET)
Boost Mobile
Fatburger corporate video
Anya live concert DVD
Epiclear informercial
the documentary Earthlings
Entercom
Sasha
The Cheese
Johnston Pacific
Swallow Creek Productions
Innuity
Bruton
Odetics
Orange County Flood Control
City of Long Beach
Professional Software
Video Pioneers
Hot Spots
Anaheim HazMat
Gucci
Pacific Vision
Indigo
Beckman
State of the Art
Mitsubishi
Orange County Recycling Centers
FrontRunners
The Shops at Palos Verdes
Santa Anita Casino
Desert Fashion Plaza
Wet Set
Santa Anita Fashion
Northridge Plaza
Shelley BMW
Eagle One
Topanga Plaza
Fox/FX Channel
LA Fitness