Welcome to the 2022 edition of the NAMM Oddities.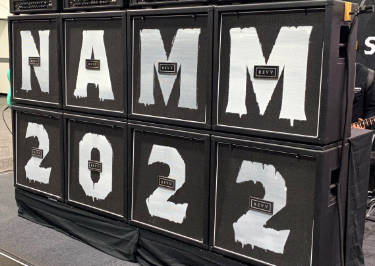 After a 2 1/2 year hiatus the NAMM Show is back. It was about 60% of the size of the 2020 show which means that there aren't quite as many products featured here. Have no fear, there were plenty of mad scientists who used their pandemic time to develop new and unique things.
As always my intention was to get this posted shortly after the show. I got partway through editing photos and videos but then a startup I'm involved with had a code sprint that turned into a more of a marathon. Being the primary coder on the project, that kept me busy for almost four months. Four months is far from the longest it's taken me to put these pages up so I'll call that a win.
Thanks once again goes out to Tracy for catching typos, fixing incomplete thoughts, and punching up the humor.
A brief history of the NAMM Oddities…
After attending the Winter NAMM show for a number of years, I'd noticed that the exhibitors seem to fall into two categories: the established company showing its new (and sometimes vaporous) products and the independent start-up company looking to be noticed by distributors, music stores, potential investors and the music press.
It seemed that every year I spent more of my NAMM time checking out the various small companies that got stashed in some dark corner of the show. Many of the products from these companies were never seen by the average visitor, sometimes because they only appealed to a small market, or because most people simply couldn't figure out what the hell they were supposed to do.
That isn't to say that these products are ill-conceived or poorly executed. It's just that sometimes they're, well, a little odd. This situation made me think that there ought to be a place for people to come to marvel and wonder at all of these products. Thus, the NAMM Oddities were born.