Become a fan of the NAMM Oddities on facebook and see occasional audio-related strangeness all year long. You'll also be the first to hear when the Oddities go online each year.
Welcome to the 2008 edition of the NAMM Oddities
The Oddities this year were in danger of being cut short. About three hours into the show my camera decided to shed this mortal coil. As I was pondering my options, I spotted some friends a few rows over and James Steele was kind enough to loan me his camera so I could continue my quest of collecting Oddities.
If you've perused the Oddities in the past, you'll notice a new look for the pages. Since its inception in 1998, the design of the NAMM Oddities has remained the same. If you measure its age in Internet years, it's about 100 years old and high time for a change.
A new feature is the ability to click on the pictures to view a larger version in a new window. Some Oddities really deserve super-sizing. But much like McDonald's, doing so may not be good for you.
Oddity of the Year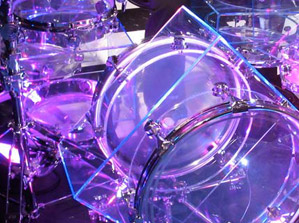 In conjunction with the Museum of Making Music, the NAMM Oddities are pleased to present the Oddity of the Year.
This year's winner is from those innovative folks at the Square Drum Company for their (you guessed it) Square Drums.
You can read more about them on the Oddities Percussion page.
A brief history of the NAMM Oddities…
After attending the Winter NAMM show for a number of years, I'd noticed that the exhibitors seem to fall into two categories: the established company showing its new (and sometimes vaporous) products and the independent start-up company looking to be noticed by distributors, music stores, potential investors and the music press.
It seemed that every year I spent more of my NAMM time checking out the various small companies that got stashed in some dark corner of the show. Many of the products from these companies were never seen by the average visitor, sometimes because they only appealed to a small market, or because most people simply couldn't figure out what the hell they were supposed to do.
That isn't to say that these products are ill-conceived or poorly executed. It's just that sometimes they're, well, a little odd. This situation made me think that there ought to be a place for people to come to marvel and wonder at all of these products. Thus, the NAMM Oddities were born.